Marketing Strategy & Business Coaching
Creating BIG
RESULTS for SMALL
BUSINESSES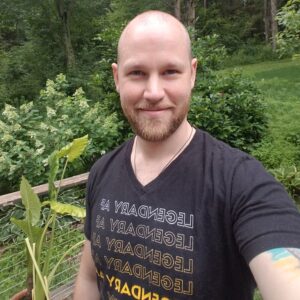 Drew Kairos, a super laid-back overachiever is determined to help others create success in their lives.
Drew started his professional life chasing the traditional route to success, earning 4 degrees in 7 years. He worked as a lifeguard, security professional, police officer, attorney, real estate broker, insurance producer, personal trainer, dog trainer, and more before shifting his focus 100% online!
Since that time he has helped over 2,000 entrepreneurs and affiliate marketers master the entrepreneurial mindset and create real, measurable results in their lives and businesses.
Drew has experienced many fundamental beliefs, ideas, and principals that helped him achieve success in many respects. He's benefited from many schools of thought and learned from mentors of all different backgrounds and philosophies. The way he lives his life and the concepts he teaches are a reflection of those different points of view.
money mindset
limiting belief reframing
CLEAR GOALS & STRATEGIES
SELF Confidence
Ecommerce Online Sales
Computer Programming
sales funnels & Web Design
INCOME STRATEGIES
What's the Benefit of
this Coaching?
"A coach is someone who tells you what you don't want to hear, who has you see what you don't want to see, so you can be who you have always known you could be." -Tom Landry​
Marketing Strategist + Mindful Success Coach = The Perfect Combination
As a Marketing Consultant, I serve as an objective expert for small businesses. Bringing together several years of experience, marketing expertise, and strategic thinking to help you improve business processes, refine products and services, and more successfully marketing your business.
We start by assessing where your business is now, clarifying the goals you want to achieve, and then putting together a list of what items to focus on when. On an ongoing basis, I will:
Serve in an advisory capacity on marketing best practices, platforms, and tools
Review materials and provide recommendations
Provide oversight and guidance on getting projects and tasks done
I also teach powerful strategies for enlightened capitalists and entrepreneurs, teaching them how to build a business, create a following, improve their lifestyle, and change their world.
As a Mindful Success Coach, I combine psychological and spiritual principles/laws with the neuroscience of transformation in a way that makes sense and is actionable.
This type of coaching focuses on the positive aspects of the human condition, much like positive counseling; it does not focus on the negative, irrational, and pathological aspects of life. Our coaching concentrates on strengths and abilities that can be used in new and different ways to enhance performance, improve image of the self, ensure smoother life transitions, overcome challenges, achieve goals, become more successful, and improve the overall quality of one's personal and professional life.
Alphadog Success coaching is designed to:
Provide support and hold you accountable
Brainstorm ideas and solidify a clear and actionable path forward.
Empower you to change your beliefs, create your own priorities, and take powerful action towards success.
Awesome People We've Worked With
"Drew is a great Teacher. He is methodical and goes at a good pace. He always pauses for questions and repeats anything with respect for the listener and not a feeling of "why can't you get this." Drew has that knowledge that I call "teaching knowledge. He not only knows his subject well, but has the ability to explain it to any level of listener understanding, from beginners to those leading their fields."
Charles Luther
★★★★★
"A million thanks for all your help and patience. I know you're a very busy person, yet calmly and courteously you take me through the steps to get my business up and working. I have never had anyone give me such personalized assistance. You have inspired me to be a more patient person, especially with myself."
Dorothy McKenzie
★★★★★
"Drew went above and beyond. I was nervous because I am a weirdo like that, but Drew was so easy to talk to. He has the knowledge and the patience. I wish I would have gotten him as my coach in the beginning because I feel I would have made much more progress. He is an excellent coach!!"
Shana Stokes
★★★★★
"I was at the point of super overwhelm when I booked a 1on1 session. We all have google to show us "how to" but Drew is there to show me why, when, where and so on...without wasting my precious time. I'm not afraid anymore about funnels. I highly recommend Drew and his sessions. Great personality and very patient. Makes the process fun. Thank you!"
Nina Golina
★★★★★
"Definitely worthwhile! I had a list of questions and all of them were answered really well and Drew was really helpful and friendly too! I would definitely go back to him if I ever need help again! I think Drew is doing such a great job and I feel very supported as there is always someone there to help me out if I ever get stuck!"
Sonali Poojara
★★★★★
"I was not expecting to get much value! I have been screwed over before, with 'oh the answer you need is an extra $500'. But you were just genuinely there to offer support. I am really greatful for you...the universe loophole king!!! 1000% I got more than I thought I would, you are handing out bricks of gold with how generous you are (Drew) with knowledge."
Marisa Beck
★★★★★
"Drew showed me exactly what I needed to do and was very patient with me. And I have a video I can look back on when I have to do this again. I am so grateful for you. This is the exact right company for new and veteran marketers to partner with because of this customer service. You don't leave us to go it alone and that is huge. It's part of the value that you provide. I feel like I'm part of an extended family!"
Kim Maithot
★★★★★
"Absolutely! Drew made me feel at ease, answered all my questions and helped me with my technical challenges. I felt much more confident with my abilities afterwards and have implemented everything we discussed. Drew is a great teacher. He is calm and patient and allows you to navigate for yourself and guides you when needed. He is supportive and encouraging."
Jules Hamilton
★★★★★
"Drew, is one of the fantastic, amazing people, I just love everything in him (his approach, support, simplicity, friendliness, knowledge, technical setups and system behind the screen) as its a pleasure to work with him, he is fast to guide, fix, review, all clear, to the point, and most important to me that after meeting him I am moving with clear goals to my next steps."
Olga Korshunova
★★★★★
READY to make BIG
THINGS HAPPEN?